Avery hoping to transfer to Ole Miss to get closer to his mom
Memphis linebacker Genard Avery hopes to transfer to Ole Miss after the spring semester, with or without a release, he told RebelGrove.com Monday.
Avery, who recorded 53 tackles and three quarterback sacks last season before suffering a wrist injury in November that required surgery, said he needs to get closer to his home in Grenada, Miss., to be closer to his mother, Tiffany Avery.
"My junior year (at Grenada High School), she got sick," Avery said. "It's been hard playing without her coming to my games and all that. When I got to Memphis, it got worse."
Avery said he talked to Memphis coach Mike Norvell on the coach's first day on the job about a release.
"I was telling him I wanted to transfer, that I was having problems at home," Avery said. "His response was, 'I'm not going to release you to Ole Miss or Mississippi State.' I didn't even say anything about Mississippi State. I just said closer to home. He said, 'I won't release you to them. It's my job to do whatever I can to keep you and show you that you and I can make this program better.'
"The reason I came to Memphis was because of my coaches. They cared about my family. They always checked on my mom and this and that. It was like a family-deal to them."
Those coaches, former Memphis head coach Justin Fuente and assistants Galen Scott and James Shibest, all departed for Virginia Tech following the 2015 season.
"Stuff happens at the house all the time and usually, I come home every weekend and sometimes during the week," Avery said. "My freshman year, I had a car and I went home just about every day. It just depended if we had practice or not."
Avery said he considered leaving Memphis during the Christmas holidays. His family urged him to get to know the new coaches.
"The only reason I stayed was because I was giving them a chance but my mind is set that I'm leaving," Avery said. "I'm going to do whatever I can to be close to my mom. That's where my head is right now.
"I really do want to leave. I really just want to be close to home. That's just being honest. I'll try to walk-on at Ole Miss. I'll do whatever I can to be closer to my mom and my family."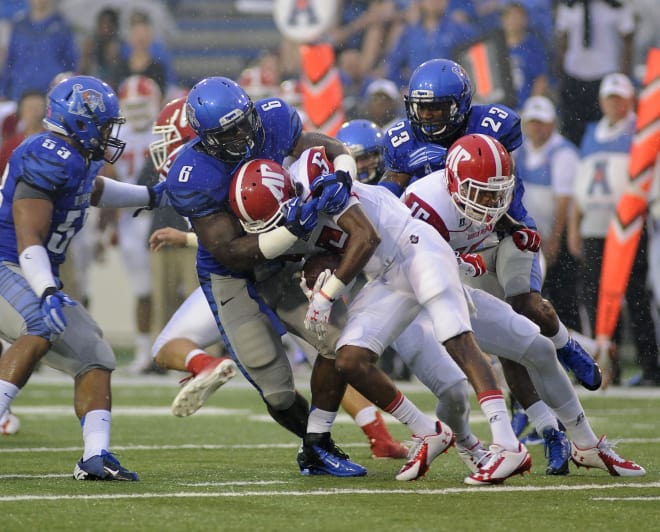 Avery said he plans to meet with Norvell to reiterate those desires in the spring. As for his next step, Avery said he would prefer to enroll at Ole Miss. Oxford is 48 miles from Grenada (Memphis is 96 miles away), and there is more of a support system in place for him in Oxford, Avery said.
A Grenada couple has served as an adopted family of sorts for the past several years, and Avery refers to that couple's two daughters as his "sisters." One of those "sisters" attends Ole Miss.
Regardless, the Rebels' coaches can't speak to Avery, however, without his acquiring a release from Memphis. Unless he received a release from Memphis and was granted a hardship waiver by the NCAA, Avery would have to sit out the 2016 season. Without a release, he would have to fund his own education next fall. If Avery sat out the 2016 due to NCAA transfer rules, he would be eligible to play in 2017 and 2018.
He said he's not worried about that. Instead, he just wants to be better able to help at home.
"Sometimes I get calls from my mom late at night," Avery said. "She always wants me to be there when she's going through something. I want to be there because she was always there for me when I was going there.
"I don't have anything against Memphis. This is about being closer to home and being in a better situation with my mom and closer to my family and being happy."
Avery played a big role in Memphis' 37-24 win over Ole Miss at Liberty Bowl Memorial Stadium on Oct. 17. It was the highlight of his season, in large part because he got bragging rights over several friends on the Ole Miss roster – Trey Bledsoe, A.J. Moore, C.J. Moore, Garrald McDowell, Laquon Treadwell and others.
"I just had to prove myself at Memphis," Avery said. "When I signed with Memphis, I always felt I was supposed to be somewhere better. I felt like I was supposed to be at my dream school, Ole Miss. I worked so hard just to make them think, 'Man, we made a mistake.'"
Even if he doesn't end up at Ole Miss, the 6-foot-1, 255-pound Avery said he's confident he can find a place to continue chasing his NFL dreams.
"I'm not worried about that," Avery said. "Wherever you are, (the NFL) will find you. If you transfer to a smaller school, they will find you. I don't think about that. If it's meant for me to get drafted, it's meant to be wherever you are. Honestly, I'm just worried about getting my education and being focused more on me and my family. This isn't about football. It's about being happy."