Blackman pleased with bounce-back season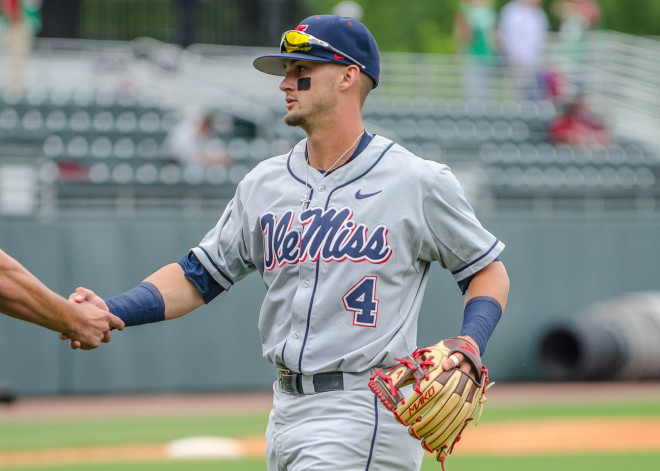 OXFORD | Tate Blackman never shied away from the struggles last season.
After being named the D1Baseball.com Preseason Freshman of the Year in 2015, he acknowledged the expectations and then handled the adversity the best he could as the season turned sour.
Teammates and coaches applauded his head-up ability despite the individual nightmare. He met with the media when summoned and cheered others on the field as his innings dwindled. Blackman hit .197 with a strikeout in one out of every four at-bats. He didn't appear in 19 games.
The way Blackman approached the bad allows him to be even more appreciative, as talent met production as a sophomore. He's one of the Rebels' main offensive weapons, as Ole Miss (43-17) opens the Oxford Regional at 7 p.m. Friday against No. 4 seed Utah (25-27).
No. 2 seed Tulane and No. 3 seed Boston College open the four-team tournament at 3 p.m.
"I'm very pleased with my season and how I've done so far," Blackman said. "I thought last year would have been like this year so it's definitely how I wanted to play this year. I'm blessed with the work I've put in since the fall and the help from the coaches. It's been great with the coaching staff and working with them."
Blackman leads the Rebels in hits and is second in batting average (.329), total bases (99) and runs scored (47). He's also second on the team in multi-hit games and named Second Team All-SEC.
The Altamonte Springs, Florida, native has never witnessed an Ole Miss home regional, even though he committed in July 2012 and was signed during the Rebels' run to a third place College World Series finish in 2014.
So he took to YouTube to find old highlight videos and see how it differed from the regular season crowds. Ole Miss has hosted six other regionals since 2004 and is 15-3 in those games -- winning 15 of the last 16.
"I keep asking Colby (Bortles) Errol (Robinson) and JB (Woodman) if Friday is going to be crazy, and they say just say wait and see how live it's going to be," Blackman said. "I was curious myself yesterday so I went on the Internet to when they hosted regionals, and it's pretty crazy. I'm excited to get going. I told myself Monday I don't even want to practice, just want to go straight to a game. I'm looking forward to playing on Friday."
Compared to a road trip to Los Angeles last season, Blackman said staying in routine and sleeping in his own bed is a nice added benefit to being at home. All four teams practiced at Swayze Field Thursday after the road teams made it to Oxford on Wednesday.
"Our confidence is pretty high, and we're going to keep rolling from here," Blackman said. "We'll keep swinging well and having good at-bats. This is the right time to get hot at the end of the year."