Sources: Football violations 'secondary' and 'minimal' in Ole Miss probe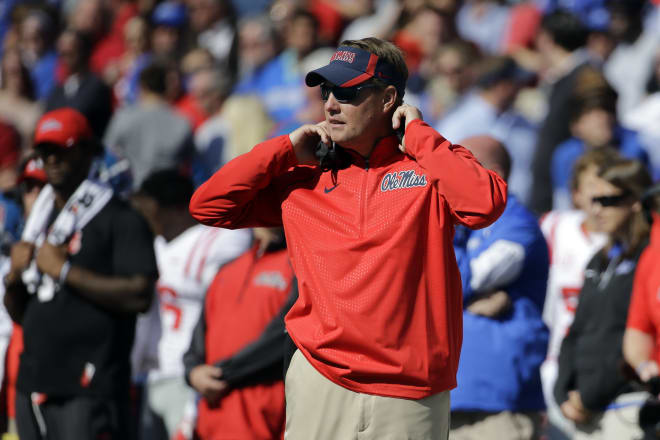 OXFORD, Miss. -- Yahoo Sports, citing unnamed sources, reported Friday Ole Miss has received a formal letter of allegations formally charging the school with dozens of rules violations in three sports.
According to Yahoo's Pat Forde, Ole Miss has received a Notice of Allegations from the NCAA enforcement staff alleging roughly 30 violations in football, women's basketball and track and field, sources told Yahoo. Forde reported it is "unclear at present what the breakdown is in terms of violations by sport. The NCAA does not comment on current, pending or potential investigations."
Ole Miss athletics director Ross Bjork issued a statement Friday afternoon.
"As has been the case for the past three years, we are bound by confidentiality and cannot comment publicly on the matter," Bjork said via a statement issued by media relations director Kyle Campbell. "However, I can say that I'm confident in how our coaches and staff operate our program, and we take compliance, NCAA and SEC rules very seriously. We are working hard to seek a resolution to this matter."
Attempts to reach Ole Miss football coach Hugh Freeze were not immediately successful.
However, an Ole Miss source speaking on the condition of anonymity said most of the allegations are tied to NCAA probes into the Rebels' women's basketball program and the track and field program. A "very minimal number" of allegations are tied to the current football staff, and those are related to former Ole Miss offensive tackle Laremy Tunsil.
Tunsil sat out the first seven games last season for accepting impermissible benefits. Tunsil, according to an Ole Miss release, was found to have accepted "use of three separate loaner vehicles over a sixth-month period without payment, a four-month interest-free promissory note on a $3,000 down payment for purchasing a used vehicle, two nights of lodging at a local home, an airline ticket purchased by a friend of a teammate, and one day use of a rental vehicle. In addition, it was determined that Tunsil was not completely forthcoming when initially questioned by NCAA investigators regarding the loaner vehicles."
Most of the football-related allegations, the source said, date back to Houston Nutt's tenure. Nutt coached Ole Miss from 2008 through 2011.
Privately, Ole Miss sources have said they've known a notice of allegations was coming for more than a year. SBNation.com's Steven Godfrey wrote Friday only five of the 32 allegations are football-related, adding that Ole Miss coaches are "confident" allegations related to the current staff are secondary violations. An NCAA source told SBNation.com the "vast majority" of the football allegations are more than two years old.

Internally, Ole Miss has prepared for a minimal loss of football scholarships as well as a small loss of official visits and possibly time off the recruiting trail for coaches during evaluation periods.

Ole Miss' NCAA issues are tied to academic improprieties committed by former women's basketball coach Adrian Wiggins and former football staffer David Saunders. Saunders worked for the Rebels on three separate occasions, most recently in 2010 when Houston Nutt was the football coach. Freeze was hired in 2012 and also worked as an assistant at Ole Miss from 2005 to 2007.
Earlier this month, Saunders was hit with an eight-year NCAA show-cause penalty as part of NCAA penalties levied against his most recent employer, Louisiana-Lafayette.
Ole Miss track and field coach Brian O'Neal resigned in June 2015 after a successful campaign. Sources have told RebelGrove.com O'Neal's resignation was, at least in part, NCAA-related.
According to standard NCAA protocol, Ole Miss and/or other parties charged with violations have 90 days to respond to the allegations. Unless there is agreement on the facts and the case can be resolved by summary disposition, a Committee on Infractions hearing date will be scheduled.
If there is a hearing, NCAA enforcement will present its case and the school can present its side. A Committee On Infractions report, detailing any penalties that are to be assessed, generally is issued six to eight weeks after the hearing.
The timing of Friday's report could be problematic for Ole Miss. The Rebels' recruiting class is ranked No. 4 nationally by Rivals.com, and Ole Miss is entertaining more than 20 official visitors on its campus this weekend. National Signing Day is Wednesday.